Effective Mosquito & Tick Control For West Newbury Properties
Located just 34 miles north of Boston, the small suburb of West Newbury, MA, is a lovely community and a great place to live. We're situated right along the Merrimack River, and that means substantial moisture levels all year long. Where there is moisture, there are mosquitoes, and these vector pests are eager to feed on your blood. The most reliable way to protect your home or business from mosquito activity is to get in touch with a team of experienced pest professionals. Mosquito Busters is a family owned and operated company that specializes in mosquito and tick control. Reach out to us today for your free quote.
Helpful Mosquito Control & Prevention Tips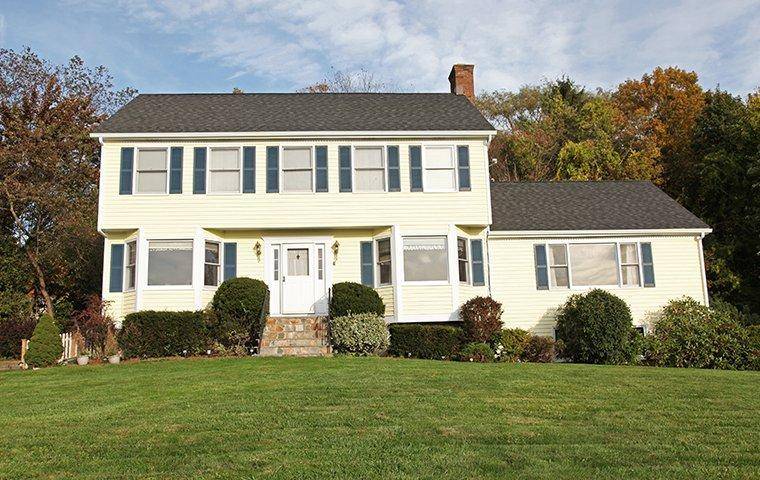 Mosquitoes are dangerous pests that expose us to many vector-borne illnesses. In order to protect yourself and your loved ones from the potential harm of mosquitoes, there are some things you can do. Here are a few preventative measures to help you reduce mosquito activity in your backyard:
Fix any drainage problems from faucets, hoses, pipes, gutters, sprinklers, etc.

Eliminate sources of standing water like containers, old tires, etc.

Fill in tree holes with expanding foam so mosquitoes won't lay eggs in any water that collects there.
While these tips are certainly helpful, the truth is that no method of prevention is as effective as professional pest control services. Here at Mosquito Busters, we use In2Care systems to treat mosquitoes and thoroughly eliminate them from your West Newbury yard. Call today to get started.
Four Benefits Of Pro Tick Control In West Newbury, MA
Ticks are tiny parasitic pests that latch onto animals and humans to feed on their blood. As vector pests, they can transmit diseases to those they bite. The best way to protect your health, and the health of your loved ones, is to rely on experts. Here are four benefits of professional tick control for your West Newbury property:
1. We send one of our team members to inspect the premises and identify non-pesticide methods that you can implement to discourage ticks from reproducing around your yard.

2. We apply pesticide treatments to "hot areas" around the yard where tick populations may be hiding.

3. We treat brush, leaf piles, and other active resting and breeding sites, thoroughly covering the property to give you lasting protection from tick infestations.

4. We will come back to re-treat the area as needed, keeping your property guarded against tick activity on a continual basis.
For the best tick control and prevention solutions in West Newbury, you've come to the right place. The professionals at Mosquito Busters will determine the right treatment approach to solve your tick situation, no matter what it is. Give us a call today, and we'll give you a detailed service estimate. The threat of a tick-borne illness is too serious to ignore, and we're here to address all of your tick control and prevention needs.
West Newbury's Helpful Guide To Identifying Tick Bites
Identifying a tick bite isn't always easy because they're usually painless and can easily go unnoticed. An indication may be a red spot or a bulls-eye rash with a ring of redness around it. There will usually be an inflamed rash pattern near the bite site characterized by pain and swelling.
Ticks only bite once, so you won't see a bunch of little red dots, only one. They burrow their head into the skin of their host with the rest of their body still attached. They commonly bite on the back of the neck, the scalp, the groin, or the legs. If you find yourself suffering from neck stiffness, headache, nausea, and weakness, it may be a sign of a tick bite that needs attention.
The safest way to protect your yard and your home from a tick infestation is to rely on the expertise of a professional. The team at Mosquito Busters has the expertise needed for the complete detection and elimination of tick activity. Call us today for a free quote.
When To Call The Pros For Mosquito Control In West Newbury
We're all aware of the nuisance of mosquito bites, but it's also important to know what's going on underneath the surface. If you get bitten by an infected mosquito, there are lots of diseases that you're at risk for, including malaria, West Nile virus, encephalitis, Zika virus, yellow fever, chikungunya, dengue fever, tularemia, and many others. So, how do you know if you have a mosquito problem?
It's common to hear high-pitched buzzing noises, indicating mosquito populations flying around your property. If you're getting bit, you notice it's more often at dusk when these insects are most active.
If you think you may have a mosquito problem on your property, it's a smart idea to get your property treated by a professional pest control company. We are proud to provide complete mosquito treatment and prevention services to keep your West Newbury property guarded all year long. Reach out to us today to get started.
Learn more about our all-natural pest management products for West Newbury infestations.
Request Your Free Inspection
Complete the form below to schedule your no obligation inspection.