Premium Protection For Your Massachusetts Or New Hampshire Yard
Of all the insect pests that can infest your yard, ticks are possibly the scariest. We hear about them every year as soon as the weather begins to warm up, and it seems that they become a bigger problem with every passing year as well. With their tiny size and ability to spread illnesses through bites that we often don't even notice, it's easy to see why ticks are feared.
The good news is that ticks can be easier to get rid of than mosquitoes. Usually, fewer treatments are required to discourage these ugly, disease-carrying bugs from building families on your Massachusetts or New Hampshire property. Mosquito Busters has the expertise and experience necessary to keep your yard safe from harmful ticks.
For more information about tick control in Massachusetts check out this bulletin from the Department of Agricultural Resources.
Tick Control From Mosquito Busters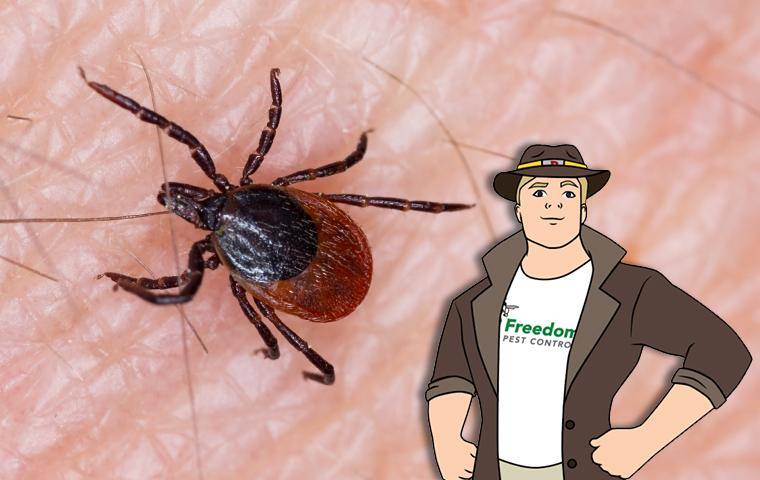 In order to keep ticks off your land, our Mosquito Busters technicians will do two primary things:
1. First, we will send one of our Mosquito Busters out to your property, where they will identify the non-pesticide methods you can implement immediately to discourage ticks from reproducing in your yard's nature.

2. Second, we will apply a pesticide treatment to the "hot areas" in your yard, which are likely hiding tick populations. We will repeat the application one to two additional times for traditional treatments. Our all-natural treatments usually require that we visit once every three weeks.
What To Do While You Wait
If you're worried that you have ticks in your yard, you can help prevent the chances of being bitten before our Mosquito Busters visit by doing the following:
When you work outside in an area with a lot of brush or leaves, you run the risk of a tick hitchhiking onto your clothing. As often as you can, wear long sleeves and pants that are light in color.

Tape your pant cuffs tight to your legs to stop ticks from climbing up onto your skin.

When you complete your outdoor activities, remove all clothing and shower.

When drying off from your shower, perform a tick check on all parts of your body.
Ticks can transmit various diseases, including Rocky Mountain spotted fever and Lyme disease. Twenty-four hours after a tick check, stay alert for engorged females, which will burrow into your skin and become harder to remove.
Keep Biting Ticks Out With Mosquito Busters
Ticks are a serious threat to the health of you and your family, but you don't have to live in fear on your own property. With Mosquito Busters' tick control services, you can feel confident spending time in your own yard without the worry of ticks or their bites. Contact us today to request your tick control treatments.
Learn more about our quality all-natural pest control products in Massachusetts and New Hampshire.
Request Your Free Inspection
Complete the form below to schedule your no obligation inspection.