Quality Mosquito & Tick Control For Salisbury Home & Business Owners
Incorporated in 1639, the resort beach town of Salisbury, MA, is located about 45 miles north of Boston on the New Hampshire border. We have five miles of beautiful beach views to enjoy, so it's no wonder Salisbury is a popular destination for visitors throughout the year. Unfortunately, that includes mosquitoes. These unwelcome guests pose a year-round problem for local property owners, and it's important to secure the proper protection.
Mosquito Busters is a family owned and operated mosquito and tick control company that has been servicing properties across Massachusetts and New Hampshire since 2016. We use both traditional and natural treatment methods to discourage these pests from breeding around your property. Whatever kind of mosquito or tick activity you're dealing with, we can get the problem under control. Our tried-and-true methods give local property owners lasting results, and our goal is to help you love your yard again!
How Effective Is DIY Tick Control In Salisbury?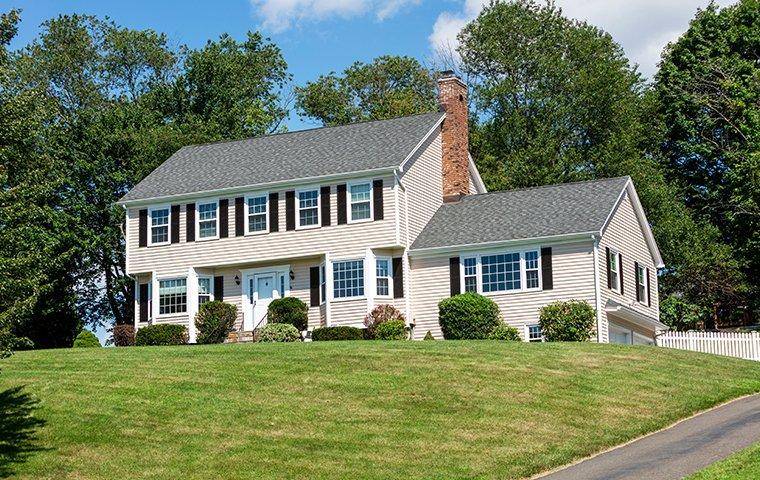 When it comes to controlling ticks around your Salisbury property, a lot of people try to use DIY prevention methods. Unfortunately, these efforts are hardly ever effective. Only pest professionals have the knowledge and experience to bring you effective tick protection.
Property owners often try DIY barrier treatments to protect their homes and businesses, but those treatments don't target the source of the infestation. You can also use chemical sprays, but these can negatively impact wildlife and the environment. Additionally, insecticides can harm your health, and they only offer temporary results.
Only professionals can provide you with complete tick control and prevention services in Salisbury, MA. Here at Mosquito Busters, we guarantee the results you just won't get from DIY solutions. Get in touch with us today to learn more about our tick treatments and how we can be of service. We're here to help.
Five Ways To Avoid Ticks On Your Property In Salisbury
Tick bites can lead to some very serious vector-borne illnesses, which is why it's important to address your tick control and prevention needs. Luckily, there are some precautionary measures that you can take to reduce your chances of getting bitten by a tick. Here are five ways to avoid ticks on your Salisbury property:
1. Wear clothing pre-treated with DEET or permethrin.

2. Apply tick repellent when outdoors

3. Avoid tick habitats like densely wooded areas with high grass.

4. Tumble dry your clothing on high heat for ten minutes to kill off any ticks.

5. Mow your grass, remove piles of wood, and maintain proper disposal of leaves, trimmings, and trash.
What Salisbury Homeowners Ought To Know About Indoor Mosquito Control
Mosquitoes are parasitic pests that carry a long list of vector-borne illnesses. When they bite, they can transmit these diseases to their hosts. We often think of mosquitoes as strictly an outdoor problem, but the truth is, these intruders can become an issue indoors as well. Here are some preventative measures you can take to keep mosquitoes out of your home:
Close windows and doors.

Reduce sources of excess moisture.

Eliminate standing water sources.

Install screen vents in doors and windows.

Repair any existing insect screens that are torn or damaged.
For dependable, year-round mosquito control in Salisbury, MA, it's best to rely on the experts. Mosquito Busters is here to help. We provide complete mosquito detection and extermination services, thoroughly eliminating these vectors from your property to keep you and your loved ones protected. Get in touch with us today to get your complimentary quote.
Here's How You Might Be Attracting Mosquitoes To Your Salisbury Yard
If you're wondering why mosquitoes are hanging around your yard, you should know that there are some things you may be doing to attract them. One of the most important things to remember with regard to mosquito control is reducing sources of standing water. That can include overturned tires, old bowls of pet water, plant pots, buckets, etc. Most of a mosquito's life cycle occurs in water, which is why any standing water is a major attractant.
Something else to consider is that mosquitoes prefer cool, damp areas, so the vegetation on your property is the perfect location. They hang out around shrubs and bushes, feeding on plant nectar (when they're not feeding on blood, of course.) They like tall grass and garden plants, making your yard very enticing to them. Additionally, mosquitoes are attracted to human skin, as it produces carbon dioxide through body heat and exhalation.
The most effective way to deal with mosquito activity around your yard is to get in touch with a team of local pest professionals. Mosquito Busters uses In2Care systems to treat mosquito problems around your property. We take a perimeter barrier approach, in which we eliminate both larvae and adult mosquitoes, preventing populations from spreading on your property. Call us today to get started; we look forward to helping you.
Learn more about our all-natural pest management products for Salisbury infestations.
Request Your Free Inspection
Complete the form below to schedule your no obligation inspection.