Complete Pest Protection For North Andover Homes & Businesses
Not to be confused with Andover, MA, North Andover is a place all its own. This humble town has been a favorite of North Shore since its founding in 1634. Locals love spending time at Steven's Pond, where they can swim the day away during the summer months. The historic Weir Hill Reservation offers over 109 acres of land to hike, bike, and boat through. For those who enjoy historic demonstrations brought to life, North Andover's annual sheep shearing festival provides a spectacle for the whole family.
Having so much to do and see is a part of what makes North Andover such a popular area to settle down. However, this also makes it a haven for tick and mosquitoes of every kind. Home and business owners are increasingly familiar with the negative consequences of infestations. Whether or not they feel it's necessary, North Andover property owners should consider getting a mosquito and tick control plan for their homes.
At Mosquito Busters, we believe in doing pest control the right way – no exceptions. We offer all-natural and traditional treatments against mosquitoes and ticks, as well as specific species that could be causing you grief. Learn more about what we can do to help by submitting an online request now.
North Andover's Solution To Mosquito Control Problems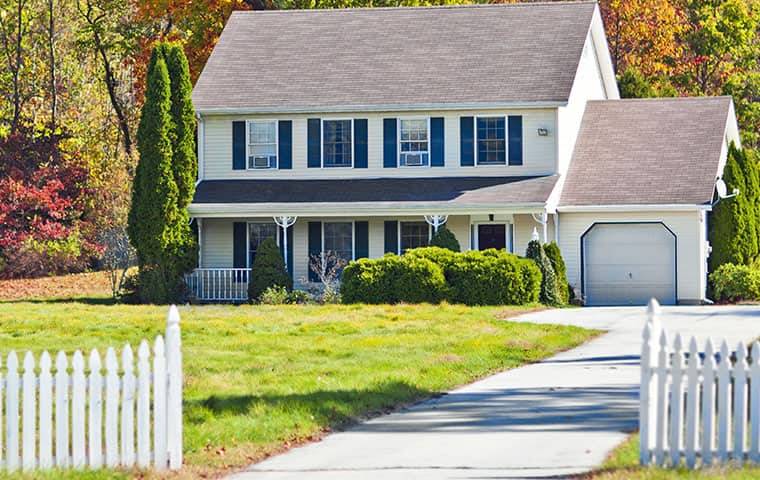 With so much rainfall happening in a year, North Andover is all-too-familiar with the sight of mosquitoes. There are many ways to avoid or discourage these pests from settling down. However, few if any methods can truly get the job done right.
That's why North Andover's best and most efficient solution to mosquito control problems comes in the form of the Mosquito Busters. Here's how we make your property safer than ever before:

We run an initial inspection of the property that takes stock of breeding areas, harborage zones, or additional resting spaces.

Using traditional or all-natural products, we build a barrier around your home that locks out potential mosquito invaders.

Any standing water sources that we cannot remove, we treat with a unique bacteria (BTI) that wipes out any remaining mosquito larvae.

We treat and re-treat your home once every three weeks to ensure complete mosquito elimination.
Make your North Andover house feel like home. Schedule effective mosquito control solutions in North Andover, MA today!
Four Mosquito Control Tips For North Andover Properties
Almost every homeowner in North Andover has suffered from mosquito infestations of some kind. Whether or not they realize it, the presence of pests can make an enormous difference in their quality of life. That's why it is so important to pay attention to these four crucial mosquito prevention tips for North Andover properties:
1. Do not allow any sources of standing water to remain in the yard. Do what you can to drain puddles, birdbaths, fountains, and flowerpots. If this is not possible, get BTI treatments immediately.

2. Maintain all vegetative growth in the yard.

3. Do not place flowering plants close to the sides of the home.

4. Prune bushes and shrubs that could create mosquito resting sites.
Get more helpful tips from Mosquito Busters by calling our North Andover office.
How To Avoid Ticks In North Andover Backyards
Mosquitoes may be dangerous pests, but ticks are arguably even more so. Ticks burrow into human or animal flesh in order to feed, preparing themselves to fertilize eggs. This act of feeding often leads to itchy bites. Sometimes, bites may even lead to disease transfer.
Avoiding ticks in your backyard largely depends on current or unique conditions. If you only have a small number of ticks around the house, consider following these helpful tips:
Tuck your pants into your socks, or tape them closed with painters or electrical tape.

Avoid areas of the yard that are overgrown or wild. Cut the grass around your property as frequently as possible.

Use river rock or peat stone to create a barrier around groves of trees or bushes to prevent ticks from migrating across the yard.
If you have more than just a few ticks in the yard, you will need to take drastic action. Give us a call to schedule reliable tick control solutions in North Andover, MA.
How To Identify A Lone Star Tick In North Andover, MA
As a dangerous tick species, residents of North Andover should be able to identify a lone star tick on sight:
Dark brown or black exoskeletons

Eight dark legs

A small white spot on the center abdomen
Avoid the mental anguish and fear that accompanies lone star ticks on North Andover properties. Get careful tick inspections from Mosquito Busters right away!
Learn more about our all-natural pest management products for North Andover infestations.
Request Your Free Inspection
Complete the form below to schedule your no obligation inspection.