Superior Mosquito & Tick Control For Manchester, MA Residents
Called Manchester-by-the-sea, or simply Manchester by local residents, this Essex County town is one of the most beautiful gems in Massachusetts. With breathtaking views of the North Shore and Massachusetts Bay, the 5,000 people who call Manchester home can enjoy a quality of life unmatched by anything else. If you plan to pass through the area, spend some time enjoying the beaches, fishing hotspots, and delicious restaurants that coat the area.
Manchester-by-the-sea is an endearing little village that has been wowing visitors with its beauty since the early 16th century. However, visitors to this area are not just human. In fact, some of the most numerous and commonly found residents of Manchester are pest species of all kinds. Growing numbers and encroaching infestations constantly threaten homes and businesses here.
There are many ways Manchester residents control their pest populations, and Mosquito Busters is proud to be the leading method of mosquito and tick control for hundreds of loyal clients. We use a variety of products, such as sprays, baits, traps, and exclusion methods that work fast. Book an initial appointment with our team today to start working on a control plan that's right for you.
Home Mosquito Control Services In Manchester, MA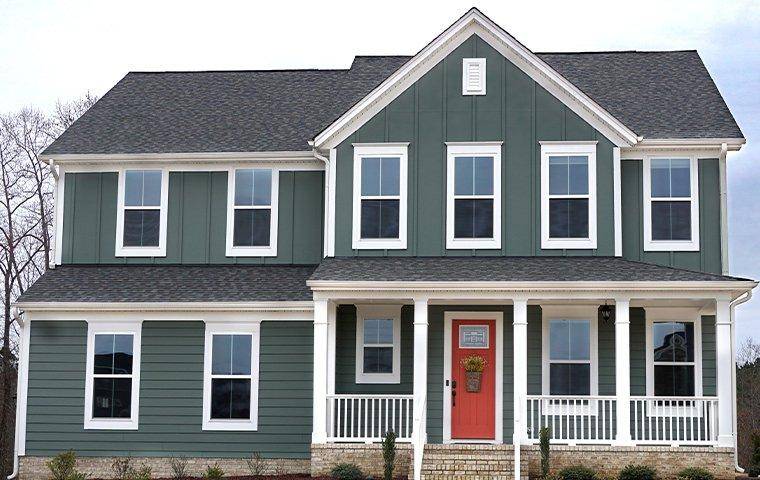 Here in the Manchester area, Mosquito Busters is a proud provider of mosquito control services to properties all over the area. We spend every day looking for new ways to protect those we love from the effects of mosquitoes in order to make being outside fun again. Once we inspect and identify the species present in your yard, we can transition to providing actionable advice and next steps. We create a barrier around the yard with traditional or all-natural products that lock pests out for good. Finally, we will continue to visit your home to apply BTI products around the house that will keep your family safe.
Invest in what matters. Get quality mosquito control services in Manchester, MA from the Mosquito Busters now!
Are The Culex Pipiens Mosquitoes In Manchester Dangerous?
With the sheer number of pests found around Manchester, some residents find it difficult to determine which species are more dangerous than others. Thanks to higher levels of air moisture in our particular area, the most common and dangerous threat tends to be Culex pipiens mosquitoes. Also referred to as the common house mosquito, these pests are some of the most dangerous insects in North America.
A single bite from a common house mosquito can transmit a disease, including:
West Nile virus

Yellow fever

Dengue

Encephalitis
If you receive even a single mosquito bite, you may be at risk of contracting a mosquito-borne illness. Should you have a large number of pests on or around your property, you may be at an even greater risk than you know.
The team at Mosquito Busters has been specializing in removing pest mosquitoes since our very beginning, freeing your yard with just a few quick treatments. Schedule an initial mosquito inspection with one of our Busters in as little as five minutes!
Professional Tick Control Services In Manchester, MA
There are many reasons why homeowners should investigate professional tick control services, especially around Manchester. Not only are ticks almost impossible to treat with DIY techniques, but the implications of their presence on the property can be very dangerous. Leaving your home or business up to chance could be much riskier than you bargained for.
Here at Mosquito Busters, we offer professional tick control services that eliminate ticks fast.
We start by identifying any non-chemical treatment methods you can use to fight ticks on your property.

Next, we apply treatments to hotspots in the yard, killing off dangerous populations.

Finally, we return one or two more times for traditional treatments and about once every three weeks when using all-natural treatments to keep your property safe.
Submit an online contact form to learn more about the Mosquito Buster's professional tick control services in Manchester, MA.
What Manchester Residents Need To Know About Lone Star Ticks
Ticks are blood-sucking arachnids commonly found around the East Coast. For the past few years, these creatures have been spreading rapidly around Manchester-by-the-sea. Apart from all other species, the lone star tick is perhaps the most dangerous of them all. These ticks have eight legs, circular bodies, and small white dots on their exoskeletons. They are also known as being a top disease spreader for people and pets alike.
Here are three important things that every Manchester resident should know about lone star ticks:
1. Lone star ticks are known for spreading Lyme disease, a painful and often incapacitating illness.

2. Adult ticks are active almost all year long, from April to September.

3. There are millions of lone star Ticks in the Manchester area.
Give yourself the protection you deserve this year. Keep your home safe from ticks with help from Mosquito Busters today.
Learn more about our all-natural pest management products for Manchester infestations.
Request Your Free Inspection
Complete the form below to schedule your no obligation inspection.