Professional Pest Control For Derry, NH Properties
The town of Derry sits in Rockingham County and is the most populous community in the county, making it a popular place for residents and visitors alike. Unfortunately, pests are a common occurrence thanks to the gorgeous pockets of nature and many commercial properties.
However, at Mosquito Busters, we believe that pests don't have to be part of your life, so we work hard to eliminate your pest problems today and in the future. By focusing on providing unmatched services, we've gained a reputation as the go-to for Rockingham County pest control.

Are you ready to say goodbye to pests for good? Contact our team today to discuss your needs and regain control of your property!
Home Pest Control In Derry, NH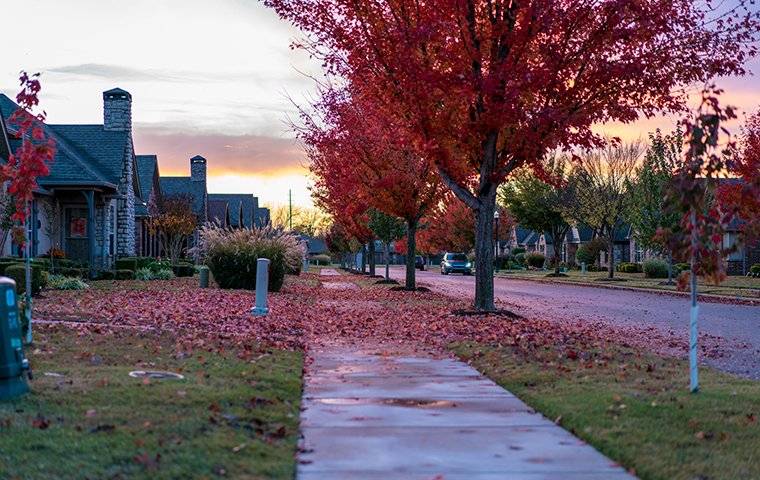 Nothing makes your home life more frustrating than not being able to go outside because there are too many mosquitoes on the property. Mosquitoes bite humans, leaving behind itchy welts and making things feel miserable. In addition, they also pose a danger thanks to the diseases they transmit, like the West Nile virus.

At Mosquito Busters, we'll help you get rid of mosquitoes. To accomplish this, we perform a comprehensive inspection before providing the necessary treatment, ensuring adequate coverage in the first place. Some additional benefits of professional mosquito control in Derry include but aren't limited to:
Set and forget: With professional assistance, you never have to worry about tackling mosquitoes on your own since they handle the treatment and prep for you.
Cost-efficient: While D.I.Y. options exist, it's much cheaper, in the long run, to go with professionals since they'll succeed the first time.
Safe to use: Professionals have access to safer options than over-the-counter sprays and chemicals.
If you're ready to say goodbye to mosquitoes in your home, reach out to Mosquito Busters. Contact us today to discuss your mosquito control needs and enjoy playing outside again!
Residential Tick Control In Derry
Ticks are one of those pests that are commonplace in the Derry area but inspire instant cringe as soon as you find out they're on your property. To make matters worse, ticks in Derry are known for spreading a wide range of diseases like Lyme disease and Rocky Mountain Spotted Fever, depending on the tick species.

While you can do things to prevent ticks, the only viable solution for a heavy tick infestation is professional tick control. Some benefits of professional tick control include but aren't limited to:
Immediate results
Eco-friendly chemical barriers
Cost-effective
and More!
Our team at Mosquito Busters provides the necessary assistance and follow-up to effectively control your tick in Derry problems so you can confidently enjoy your yard again. If you're ready to say goodbye to ticks on your property, reach out to us today to discuss your options!
Protect Your Derry Yard Against Aedes Sollicitans Mosquito
There are multiple types of mosquitoes found in the United States, and one of the most common in the Derry area is the Aedes sollicitans. This mosquito species is a vector for a wide range of diseases and spreads pathogens and parasites. To make matters worse, secondary infections are possible if the welts left behind are scratched too hard.

In addition, this type of mosquito is a significant contributor to the spread of Eastern equine encephalitis (EEE) and dog heartworm. Fortunately, the best way to protect your Derry yard is with professional mosquito control from our team.

At Mosquito Busters, we work hard to keep your property mosquito-free with inspections and thorough treatments that have you mosquito-free in no time. If you're ready to say goodbye to all types of mosquitoes, reach out to Mosquito Busters! Contact us today to get started on your new yard!
How Dangerous Are Black-Legged Deer Ticks In Derry?
The Black-legged Deer Tick in Derry is one of the species capable of transmitting diseases through biting. The diseases associated with this species include but aren't limited to:
Lyme disease
Anaplasmosis
Ehrlichiosis
Babesiosis
Powassan virus disease
Borrelia miyamotoi disease
If you're wondering how to identify this tick, then wonder no more, thanks to knowing their physical traits like:
Brownish or black-red coloring
Flat, teardrop-shaped bodies
Eight black legs
Black circles under their head
Without exception, it's vital to keep the tick population on your property under control despite their dangers. At Mosquito Busters, we have the training and resources needed to protect you from the Black-legged Deer Tick in Derry and other species so you can enjoy peace of mind.
If you're ready to say goodbye to ticks once and for all, contact Mosquito Busters! Reach out to us today to discuss your tick control options and become tick-free quickly!
Request Your Free Inspection
Complete the form below to schedule your no obligation inspection.