Where Do The Ticks In Merrimac Go In The Winter?
January 15, 2022
Tick control is an all-year endeavor, even in New England. An outdoor tick spray may help in summer, but call a tick extermination service in winter. Our pros at Mosquito Busters can get rid of ticks in Merrimac. Whether Boston-area homeowners have seen a tick in the home or yard, our skilled technicians can alleviate this or any pest problem.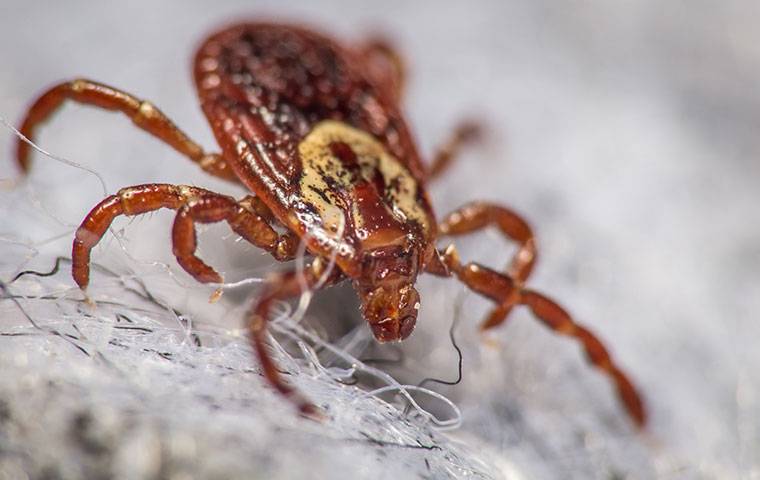 Ticks Of Massachusetts
Types of ticks that may be found in this part of New England may include black-legged ticks, dog ticks, and lone star ticks. These blood-feeders are tiny bugs that usually feature a variant of brown. Powassan virus, anaplasmosis, Rocky Mountain spotted fever, Lyme disease, tularemia, and babesiosis are tick-borne illnesses common in this region.
Why Is Tick Control Needed In Winter?
It's a general misconception that ticks take off when temperatures drop, and it's precisely this fallacy that can lead to a false sense of security. People, pets, and properties are not safe from ticks any time of the year. Sometimes natural tick repellant isn't enough to fight off these pests.
What Happens To Ticks In Colder Seasons?
Baby, it's cold outside; that means ticks are still alive and well. Some folks may think ticks die off in freezing temperatures, but that's not necessarily the norm; such temperatures would need to stay below freezing for some time to make a real dent in the tick population. Ticks become less active in cold winters. If temperatures are particularly cold, these pests can stay dormant longer and present less threat in the following spring. Ticks may begin moving around again on warmer winter days when the mercury rises above 45 degrees.
How To Prevent Ticks In Merrimac
While tackling ticks may seem like an activity done in warm weather, it is best done intermittently throughout the seasons. Taking tick prevention seriously no matter the time of year is one way to take a proactive approach to control ticks.
Calling The Professionals: This step can be the most effective toward thwarting the growth of tick populations on properties. The skilled technicians at Mosquito Busters can use a natural tick repellant for homeowners looking for a more eco-friendly approach or an outdoor tick spray that can form the first line of defense against these pests.

Deter Hosts: Remove birdfeeders, as fallen seeds can attract tick hosts like rodents. Empty onsite garbage receptacles regularly, store them away from the primary dwelling and ensure the lid closes securely. Stow firewood as far away from the residence as possible; a minimum of 20 feet is recommended.

Protect Pets: Dogs and cats, especially those that go outside to do their business, are at risk for picking up ticks, getting bitten, and bringing them inside the home. There are plenty of products on the market that can keep ticks from attacking cats and dogs: collars, ointments, sprays, and tablets. Use a preferred product according to the manufacturer's directions for best results.

Tending To Yard Duties: Ensure limbs of hedges and trees near the house stay trimmed. Remove leaf litter or any piles of debris from the yard. Avoid leaving nest-worthy items for tick hosts such as tarps, junk, clutter, inoperable vehicles, and outdoor equipment.
Get Rid Of Ticks Before Problems Begin
Just because Merrimac residents don't see ticks doesn't mean a tick extermination service isn't needed. Have questions about where to begin with winter tick prevention? Simply reach out to Mosquito Busters with any questions. Our experts can provide helpful advice and assist in aiding Boston area homeowners solve this pest problem.