Ticks In Merrimac, MA Are Going To Be Bad; What You Can Do To Protect Yourself
September 15, 2021
Although it may be a little too early to really see the effects, these blood-sucking pests are going to be breeding in droves this summer, and it's going to be far worse than anything we've seen before.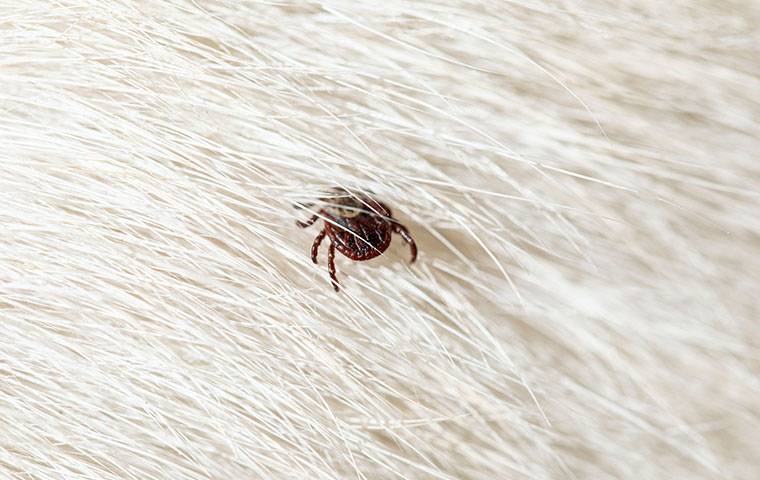 Common Ticks & Problems They Cause
Any amount of ticks here in Merrimac is concerning to human and pet health, especially when warmer weather is on the horizon. Thanks to our mild Merrimac winter and unprecedented high temperatures, this year will host one of the biggest tick explosions in recent memory.
In a shortlist, some of the most common area ticks in Massachusettes include:
Deer Ticks

Dog Ticks

Gulf Coast Ticks

Lone Star Ticks
There are many dangerous illnesses between these four species that humans, pets, and wildlife will contract from these blood-sucking pests. Common diseases include:
Lyme Disease

Anaplasmosis

B. miyamotoidisease, which will cause chronic or relapsing fevers

Ehrlichiosis

Babesiosis

Powassan virus
Although there's no way of completely halting the rise of this 'tick-pocalypse,' there are some prevention tactics homeowners should now take to reduce their risks all year round.
Merrimac Guide To Tick Prevention In The Great Outdoors
One of the reasons ticks are so adept at spreading from host to host is because of their unique 'questing' behavior. By latching themselves onto their hosts, ticks scramble into the warmest and most available patch of flesh they can find. Once full, the creatures will simply wave their arms and legs around in 'questing' behavior until a new host is found.
On the whole, tick bites are tiny and sometimes have no associated symptoms while the pest is feeding. Ticks will attempt to bury their heads deep within your flesh, filling up their extendable bodies like a small balloon. Filled with blood and satisfied for a few days, the tick will then 'drop off' their host, leaving a small red bite in its wake.
Thankfully, not every tick bite results in the spread of disease. In some cases, a tick must be latched to a host for several days before transmitting any illnesses. However, a smaller chance of infection is not worth the risk of hosting a mature tick infestation. To prevent ticks from becoming too plentiful around your lawn and to keep yourself safe while in the great outdoors, follow these important measures:
Areas with high tick populations, including hiking, fishing, and camping spots, should be carefully vetted before visiting. Wear long-sleeved clothing, and if possible, treat this clothing with a CDC-approved repellant such as DEET or permethrin. Although not particularly fashionable, tucking long-sleeved pants into socks creates a semipermeable barrier that is difficult for these pests to penetrate.

Keep areas of the lawn well-maintained by keeping the grass well cut and shrubbery well pruned. Ticks are not great fans of hot or arid spaces and will be abated by a manicured lawn.

Build a three-foot barrier around wooded areas of the property, using wood chips or gravel to deter pests from coming too close.

Check yourself and your children carefully for attached ticks after spending time outdoors. Cathing a tick early on will decrease the chance of contracting a tick-borne illness.

Concerned that your backyard ticks may already be too active to stop? Schedule a home inspection with Mosquito Busters to get to the root of the problem.
Protect What's Dear To You With Mosquito Busters Pest Solutions
Ticks have a nasty habit of upsetting routines, damaging wellness and affecting you and your family's peace of mind. If a single bite has the chance to damage your most valuable assets, it's no wonder that hundreds of Merrimac residents trust Mosquito Busters to level the pest playing field.
For more advice related to tick prevention or for assistance in controlling the local tick populations on your property, reach out to the professional team at Mosquito Busters right away. Our helpful operatives are looking forward to assisting you with tick management, mitigation, and beyond.