Merrimac's Field Guide To Tick Bites
March 1, 2021
Ticks are common in Merrimac because of the natural landscape that so many people in the area enjoy. Unfortunately, ticks can be dangerous to both people and animals, which can ruin a person's relationship with the outdoors. Merrimac residents need to understand ticks and what to do if one bites you or a pet.
Common ticks in the area are black-legged deer ticks and American dog ticks. Comparatively, deer ticks are much smaller, about the size of a sesame seed. Both can spread dangerous diseases.
American dog ticks are known to spread:
Rocky Mountain spotted fever

Tularemia

Tick paralysis
While black-legged deer ticks spread:
Lyme disease

Babesiosis

Anaplasmosis
With all of these diseases, it is essential to get immediate medical treatment. You can see why knowing proper care when it comes to tick bites is important.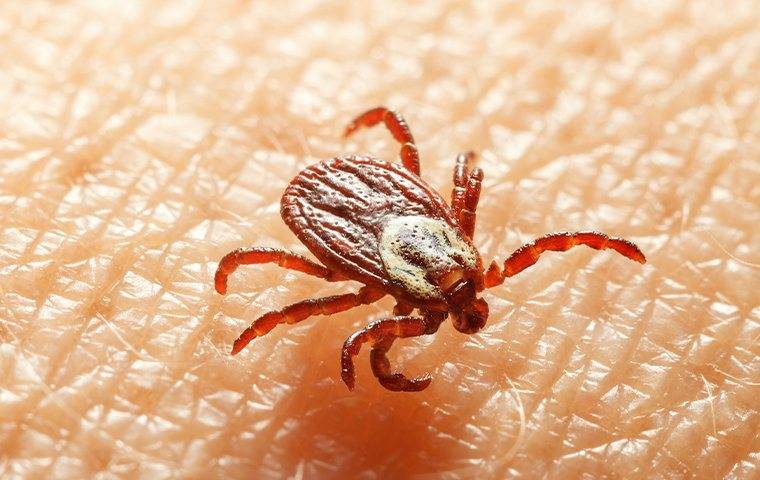 What To Do If Bitten By A Tick
When it comes to tick bites, it is not as simple as getting bitten and moving on with your day. Ticks dig in when they bite, making it difficult to remove them correctly. But, if you take the proper steps, you should see successful results.
1. Always use fine tweezers to grip the tick as close to the skin as possible. Using anything else like

2. Vaseline, soap, or matches can irritate the tick and make it worse.

3. Pull the tick back gently and firmly with steady pressure.

4. Do not jerk or twist when pulling.

5. Do your best not to squeeze or crush the body of the tick because it may contain infection-causing organisms.

6. Once you remove the tick, wash the bite site and your hands with soap and water.

7. To dispose of a tick, you should submerge it in alcohol because ticks don't drown in water.
It can be beneficial to save the tick for testing; this will not only help you if symptoms arise, but it will help local entomologists know what tick-borne illnesses are in the area. In this case, once you submerge the tick in alcohol, place the tick in a sealed plastic bag.
Warning Signs After Tick Removal
When it comes to tick-borne illnesses, it is imperative to seek medical attention early. You should continuously monitor yourself after a tick bite to make sure you are not experiencing any symptoms that are cause for concern.
Warning signs to look out for include:
A red spot or rash near the bite site

A full-body rash

A headache

Weakness

Neck stiffness

Nausea

A fever

Chills

Muscle or joint pain

Swollen lymph nodes
With ticks, it is always best to air on the side of caution. If any symptoms occur, you should seek immediate medical attention. Make sure to mention a tick has bitten you recently to help doctors look for tick-borne illnesses that might not be on their radar otherwise.
Tick Control
Although you may not control ticks in the wild, you can reduce tick populations on your Massachusetts or New Hampshire property with professional help. If you are in Merrimac, you should turn to Mosquito Busters for assistance with tick control. We specialize in ticks, giving us the knowledge, experience, and focus needed to tackle such a dangerous pest.
Our customers' safety is our number one priority, which is why we will not only treat your property but help educate you on how to avoid ticks and protect yourself against them. To get started with tick prevention and control, contact us at Mosquito Buster's today.
Learn more about our quality all-natural pest control products in Massachusetts and New Hampshire.