How Dangerous Are The Mosquitoes In Merrimac?
April 15, 2021
The humble, and considerably irritating, insects we call mosquitoes are widely considered to be the most dangerous "animals" in the world. You can probably guess why. Mosquitoes have the ability to contract diseases and spread them to humans. The worst of all mosquito-borne diseases is malaria. More than 750,000 people, worldwide, die from malaria every year. The good news for residents of Merrimac is that malaria is not currently endemic to the United States—that is to say that there are no animals in the U.S. that provide a reservoir for this disease. This is one reason why few people in the U.S. die from malaria. This significantly reduces the danger of mosquitoes in our service area. But don't get too excited. Here are a few things you should know about the threat of mosquito-borne diseases.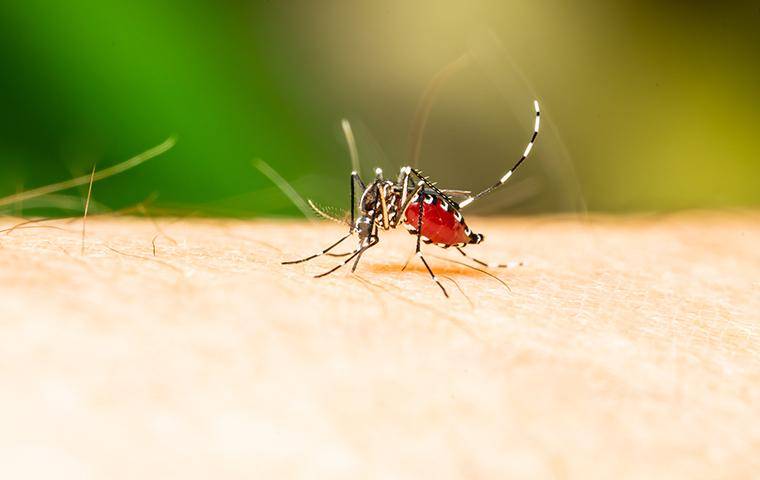 The World Is A Small Place
It only takes a few hours for someone to fly into the U.S. from a country where malaria is endemic. If they are infected with this disease, they can be the reservoir mosquitoes need in order to spread malaria. This can result in an outbreak. Fortunately, outbreaks are uncommon. One reason they're uncommon is that mosquitoes are lazy. What do we mean by this? You may not know this but most of the mosquitoes that bite you in your yard are mosquitoes that hatched in your yard. Mosquitoes tend to stay near the place they hatch. While they can travel several miles, they typically only travel a few hundred feet in their entire life. So, if an infected person is standing in a yard several houses down from yours, the mosquitoes in your yard are not going to go and bite that person and then come back to bite you. They could, however, wander into your yard from your neighbor's yard with the infection. In this rare case, there is some cause for concern, but keep in mind that we have a robust medical infrastructure. Americans have access to quick medical aid if malaria or any other dangerous mosquito-borne virus is contracted.
More Good News
The worst mosquito-borne viruses are not endemic to the states. Dengue fever, yellow fever, chikungunya, Zika virus, and many others are not localized. The mosquito-borne virus we battle most is West Nile virus. United States residents die every year from this disease, which can cause brain swelling. There are several other endemic diseases that can cause brain swelling, they have the word encephalitis in their names. This is because encephalitis means inflammation of the brain. Only a little over 100 of our 320 million people die from these diseases annually. We can once again thank our robust medical infrastructures. But, it can be unpleasant to get sick with a disease that causes brain inflammation.
How Concerned Should You Be?
Most of the mosquitoes that bite you here in the U.S. are not going to make you sick. If you get sick, you may not have any symptoms. If you have symptoms, they could be mild. Severe symptoms can be addressed by a visit to the hospital. In very rare cases, especially when an allergic reaction occurs, a mosquito bite can turn into a life-threatening situation. You don't need to fear mosquitoes, but it is wise to take precautions. We can help you do that.
Merrimac Mosquito Control
At Mosquito Busters, we provide mosquito control services for residents in Merrimac. We can help you reduce mosquitoes in your backyard (the ones that are most likely to bite you) and we can help you mitigate the slight chance of a dangerous encounter. Reach out to us today and request service.